Life Keith Richards
Body:
So the front cover of the edition I read goes while the spine has 'Keith Richards Life', since mine comes from the library a catalogue sticker covers the word 'Life' on the spine. All that is neither here nor there but the fact that the book was written with James Fox (no not the co-star of 'Performance' with Mick and Anita) is worthy of note and he gets due mention on the title page and on the inside/back of the dust jacket. The book reads pretty much as a monologue with Keith as first person and is interspersed with various characters contributing their version of events. There are lots of pics too. Around $20 in paperback, cheaper online at Amazon.com
Any Keith Richards fan will be delighted with it, any 'Stones' fan will be glad to give it a close look as would anybody who is interested in the part the 'Stones' made to a sizeable proportion of people from their generation. I'm sure Keith can easily do without the royalties or publicity but the book does a lot for his image by writing frankly and credibly about his drug taking in particular.
It was a huge relief to me and a tribute to the material in the book that there is precious little gratuitous material commonly found in both the mainstream and music press. He does seem to be thoroughly believable in his detailed descriptions of his drug use and withdrawals while as far as the sex goes it's all pretty sedate for the 'numero uno' of rock's bad boys. That doesn't mean there are no accounts of escapades in the earlier days and for me this was the most interesting period in the book, from their roots shall we say.
Keith openly confesses to ripping off everything he could from Chuck Berry but admits to a disappointment with the nature Chuck is infamous for. Keith points out how a piano player called Johnnie Jones was the co-writer of all Chuck's hits but was never credited nor did he receive royalties. All ends happily with Johnnie getting such publicity from being on the movie that Chuck and Keith made that he's been playing and touring since instead of driving a school bus which is what he had been doing since Chuck told him to "fuck off". The book is well stocked with stories that give credit to a host of original and contemporary bluesmen and is explicit in Keith's opinion that he and the 'Stones' are of that tradition. In the early days of the band the core members Brian, Keith and Mick were quite adamant they were a blues band, trying to evade the 'Pop' tag and it seems that they began to write their own material as a result of their burgeoning popularity throughout Britain. Andrew Loog Oldham had arranged a record deal with Decca and was adamant of the need to write their own material where most of the royalties are found, he locked Mick and Keith in a kitchen until they had one. Equally important is the space given to Ian Stewart, a virtual unknown to most but in this version he is as much a founding member and continuing for decades after. He was virtually their first manager as well as keyboard player and was apparently shy of publicity.
There is a no holds barred version of the circumstances around the death of Brian Jones which I found interesting as will many others. Musicians in particular will appreciate what tips Keith gives about his guitar playing including his use of open tunings and his five-string guitars. There are plenty of tid-bits about the influences behind some songs and clarifies some of the lyrics, most interesting for me was that 'Brown Sugar' starts with "Skydog slaver....." not "Scarred ol' slaver .....". Stuff like that is meaningless to anyone who hasn't spent a lot of time listening to their records. Many more are aware of a period of tension between Mick and Keith which is dealt with frankly and plausibly.
Perhaps their main claim to fame is their perseverance and ability to draw a crowd and sell records from the early sixties and still had the original members minus Brian until Bill left in 1993 but still the band (minus Charlie Watts now) celebrated their 50th anniversary with a tour, 'GRRR!' in 2012-2013 so Keith has managed to live up to his claim to being a bluesman first and last. Many expected him to be dead before 1980 but as the 'Stones' have steered further away from the big tours Keith has been involved in plenty of other works. In the end we are looking at someone who is family oriented with quite a number of children, grand-children, and pets. I'm glad I persevered to the end and equally glad for the collaboration that spun a good yarn and managed well to avoid the idolatory.
Author:
Keith Richards with James Fox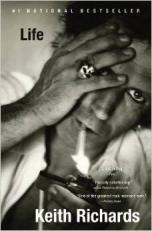 All Usage
| Drug | Spent | Users | Uses |
| --- | --- | --- | --- |
| Heroin | $86,756.39 | (4) | 1, 399 |
| Benzo family | $256.07 | (4) | 716 |
| Alcohol | $557.97 | (3) | 65 |
| Morphine | $1,560.00 | (2) | 23 |
| Methadone | $6,570.92 | (4) | 1, 536 |
| Cannabis | $3,534.45 | (3) | 335 |
| Cocaine | $73.00 | (1) | 5 |
Who's online
There are currently 0 users online.